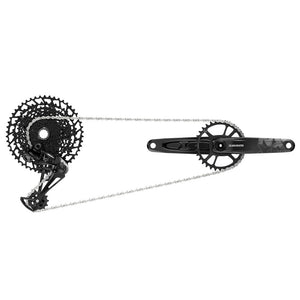 SRAM NX EAGLE GROUPSET
SRAM NX EAGLE DUB GROUPSET
It's how you start that matters. Whether you're discovering the mountain for the first time or you're an MTB lifer searching for a no-nonsense, no-worries 1x drivetrain, SRAM NX Eagle is ready for action and ready to take you there. NX Eagle brings you a wide range of gear choices engineered for simplicity and durability, so you can focus on what matters most-the ride ahead. German engineered and proudly bearing the SRAM Eagle stamp of approval, NX Eagle is ready to let the world know what real riding feels like. START NEW. START RIGHT. START WITH SRAM NX Eagle.
FEATURES
Eagle is a complete drivetrain system that was developed to be an integrated high-performance ecosystem. The engineering and testing that went into the development provide for maximum performance, safety, and long-term durability to ensure a great consumer ride experience. We guarantee this performance when Eagle drivetrains are used as a complete ecosystem.
EAGLE
Eagle technology represents our newest 1x drivetrain technology. Eagle is a lighter, simpler, more durable, and easier to use drivetrain. Eagle features all-new 1x components, engineered for even greater durability and performance while maintaining a significant weight advantage over other drivetrain solutions. Eagle technology also provides an expanded gear range of 520%, which is equal to 2x11 drivetrains.