Posted by Eric Roque on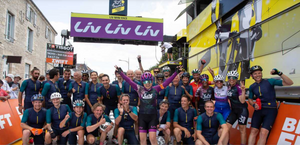 Friday, July 29, 2022 Liv founder and Giant Group Chairperson Bonnie Tu demonstrated tenacity and strength as she rode the 66km Tour de France Femmes avec Zwift ProAm to the course's finish in Bar-sur-Aube, France on Wednesday. The challenging course, from Bar-sur-Seine to Bar-sur-Aube, featured a mix of road, gravel and unpaved sections, technical, oftentimes narrow lanes, and sharp, steep climbs that catered to riders with a prowess for climbing and descending. Tu was well prepared, having trained with a coach's supervision, after accepting the invitation to the ProAm. Although most of her training rides were done on a trainer,...
Posted by Eric Roque on
10 September 2020 In the latest "From the Top" podcast from Cycling Tips, interviewer Wade Wallace calls Liv's founder and Giant Bicycle Group chairperson Bonnie Tu, "the most powerful woman in cycling." Check out the podcast to learn more about how Tu rose to the top of the largest bike brand in the world. From the Top with Wade Wallace, a podcast from Cycling Tips, recently featured Bonnie Tu, the founder of Liv Cycling and chairperson of the Giant Bicycle Group. The interview explores Tu's life-long journey, which eventually lead her to the cycling industry. Tu discusses how she navigated a male-dominated industry,...