Cycling News — Paralympic Gold in Tokyo!
Posted by Eric Roque on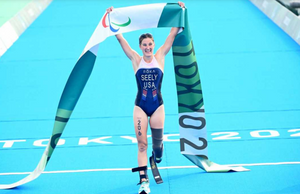 Thursday, September 9, 2021 Five years after winning the first Paralympic gold medal for triathlon in Rio, Allysa Seely made history again with a repeat victory at the Tokyo 2020 Paralympic Games on August 27, 2021. It was a hot, muggy day at Odaiba Marine Park in Tokyo, Japan. Temperatures hovered near 28 degrees Celsius, and with 88 percent humidity it felt much hotter. The water was a sweltering 30 degrees Celsius. Allysa Seely, the 32-year-old Liv Racing Collective athlete from the United States, wasn't lining up at the start as the clear favorite in the race – despite being the defending Paralympic...